An Epic Week!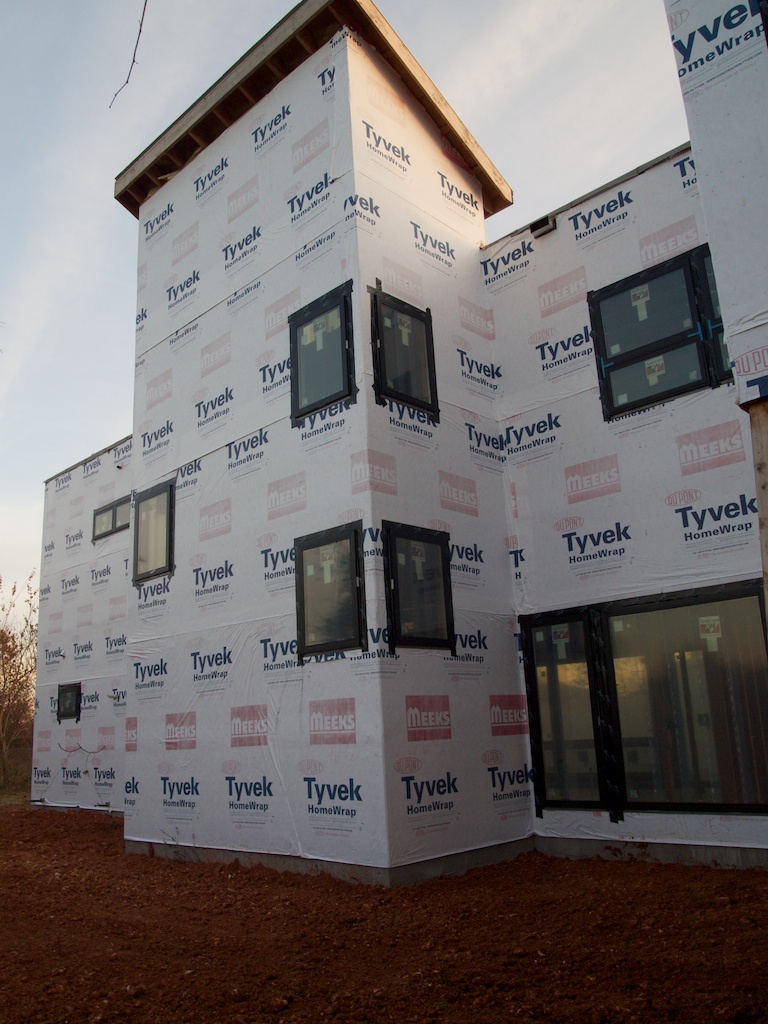 This week has been a good one, not just for the house, but for us as a family as well. We started off on Sunday with a major life change, and we're wrapping up the week with a lot of progress on the house.
We have a baby!
On Sunday our newest daughter was born. She and mommy are healthy and doing very, very well. Her big sister and bigger brother are over the moon about the new addition. The last nine months were a race to see who could reach completion first, the baby or the house. Our baby girl beat the house by a month or two. Breaking ground and a positive pregnancy test at the same time is certainly stress-inducing. Worries of "oh no, we designed this house for a family of four, not five", and "I can't move with a newborn" among others were on our mind in those first few months. The house, with a Jack-and-Jill bathroom upstairs could only accommodate two children, we thought.
Through the building process, we came to a peace about the whole thing though. We found out the baby was a girl so sharing a room with her big sister older by 2 years will work nicely for the long term. The master closet is so ridiculously over-sized that it can double as a small nursery for a few months. We had enough delays to separate completion of the house and the birth by a comfortable margin (and hopefully comfortably within our lease). We really learned to count our blessings through the whole process – we're building an incredible house beyond what we ever thought we could have, and our family will finally be complete.
Insulation
The insulators got started spraying on Tuesday and finished up on Thursday. I must say, spray foam is amazing. The house is going to be a tight one which will no doubt translate into more comfort and lower bills.
## Siding

The prep-work for the fiber-cement siding is underway. The furring strips are being attached to the exterior. The recent "polar vortex" that brought us sub-freezing temperatures also brought some high winds that did a number to the house wrap in a few places; so that will need some repairs as the exterior cladding goes up.
The other siding material, steel, saw a change to a different product this week. During the design phase exactly one year ago, we worked with the builder and architect to locate a suitable metal siding. A quick tip if you're looking for modern metal siding on a budget: immediately cross these details off your list: mitered corners, concealed fasteners. Exposed fasteners and trimmed corners for us; we can't afford the other stuff no matter how good it looks. We were going for a square, horizontal metal siding and after exhausting many different avenues that either didn't have the look we liked, or did look right, but were way too expensive we found [Pac-Clad's 7.2 panels](https://www.pac-clad.com/exposed-fastener-panels/7-2/ "Pac-Clad metal siding").
The Pac-Clad had the look and the price was in our budget, but the builder offered up an alternative to us the other day. It has a similar look but is cheaper and more readily available (same manufacturer as our metal roof). We slowly warmed up to the idea of this different material. It's not exactly like what we originally wanted and it's what you typically see on a barn or self-storage unit.
After browsing around pictures of different modern homes on Houzz with various types of metal siding, we came to the conclusion that if it's on a modern house and it's metal siding, it's going to look modern.

[![](http://st.houzz.com/simgs/52419ca2002d1970_3-5281/contemporary-exterior.jpg)](http://www.houzz.com/photos/1413015/Hilltop-House-Grand-Vista-Subdivision-contemporary-exterior-portland)

[Contemporary Exterior](http://www.houzz.com/photos/contemporary/exterior) by [Eugene General Contractors](http://www.houzz.com/professionals/general-contractor/c/Eugene--OR) [Jordan Iverson Signature Homes](http://www.houzz.com/pro/jordan-iverson/jordan-iverson-signature-homes) This is standing-seam metal roof material.

Last, but not least, the new stuff is quite a bit cheaper. It's about the same price per panel as the other stuff was per *square foot*.
Grading
Tractors have been hard at work grading around the house. Some red dirt has been brought in to even things out. This is an important step for the courtyard so that the post supporting the deck can be set properly on a solid footing. It also helps to better visualize what the house will look like finished.
## Panda door

One of the most anticipated features of the house is being installed today – the Panda door. This thing has been sitting in a couple of crates on the site for months so driving up to see the crates cracked open could mean only one of two things: theft or it's being installed. Fortunately for us, it's being installed! This is a massive sliding door that spans the gaping 14-foot opening in the living room. It's a huge (in more ways than one) centerpiece of the house and fulfills one of the items on our original short list of wants for our dream house and that's a seamless indoor-outdoor space.
## Sheetrock prep

Sheetrock is next. They will "stock rock" as they say in the 'biz next week which is why it's important to seal off that gaping hole in the house with the Panda Door. Some one-by material was nailed up along the floors as a guide for the drywall hangers. This is necessary to achieve the flush baseboard detail we're doing and to make it easy for them. They just have to slam the sheets of drywall down to the guide and the rest is taken care of later.
It's been a great week of progress after so many delays. We hope everything keeps moving and we hope you all enjoy the updates. Let us know what you think in the comments.