Got an updated floor plan from the architect today.  This is the second draft.  We met with him previously to talk over the initial draft.  We're feeling good about where the design is headed.  He listened to all of our concerns from the last meeting and addressed them in this new plan.  The first one wasn't to scale, this one is and it has dimensions so we've been having fun pacing out dimensions of the rooms in our current house to make comparisons (sure is handy having 12×12 tile).
####  Notes on the first floor
A *second *bamboo garden outside.  This mirrors the bamboo in the stair tower.

Removed the storage wall that was next to the dining room.  It just wasn't a good placement before.  Now, the kitchen cabinets are floor-to-ceiling with a small 24″ counter for a window facing the entry.  After sizing it up against our current kitchen, we think we'll have enough counter and cabinet space.
Hardscaping on the entry now has a nice modern angular feel.

Not loving the idea of a fireplace.  We hardly use the one we have now and a fireplace that vents to the outside kind of works against having a tight envelope.  We could do a ventless gas or electric one, but it's just as easy to add one of those later (if we run the gas now) and save or redirect the cash.  Also, we'll have some sort of outdoor fire something or other for when we want the smell of smoke.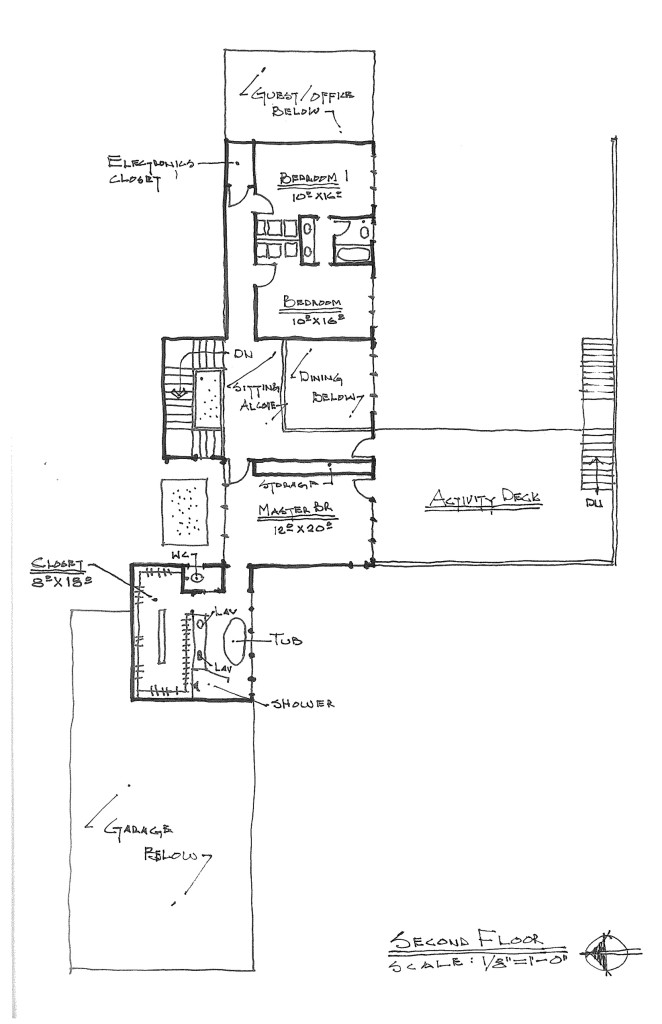 #### Notes on the second floor
I got my server closet!  It's upstairs which is fine.  The key thing is that it shares a wall with the TV below making it easy to run cables down there and rely less on things like HDMI distribution.

The kid's rooms have taken shape with the Jack and Jill bathroom.
The sitting alcove is about 8'x18′, a little different shape than last time.  We plan to have a TV there and use it as a family room kind of space.  Still not sure if that's enough space or the right shape.
Giant linen closet added.
Access from the master bedroom to the deck was added.
Incredible master closet!  This was one of the rougher parts of the first draft, so it's nice to finally see something there.
Master bath is still being worked on.
The architect wants to meet on the lot next since everything is to scale now and we should be able to get a feel for how this thing will sit out there.