Last week the builder over-optimistically estimated that we would have our certificate of occupancy by the end of the week. That didn't pan out. There's a lot of odds and ends to complete at this stage and it just didn't all come together despite a good start. The incredibly cold weather is partly to blame. Snow closed the schools and plummeting temperatures caused the plumbers to be busy on emergency calls for burst pipes. The forecast is only slightly better this week with temperatures briefly climbing above 50 °F (10C) but with some snow and ice expected again. The momentum has been pretty good so far with the electricians knocking out a lot and the deck crew getting started today. Here's a list of the major things to complete:
Replace the lower landing
Light bulbs and trims
Light switches & outlets
LED strip lighting
Ceiling fans
Garage lights
Master bath light switches
Master bath heated towel rack
Vanities, faucets, mirrors, lights
Thermostat, HVAC vents
Install toilets
Cabinet pulls
Make cabinets glossier
Driveway
Install appliances
Finish concrete floors
Install and wire master closet island
Paint master closet island
Paint front door
Deck
Grade & seed lawn
Door handles
Newel posts caps on stairs
Pocket door hardware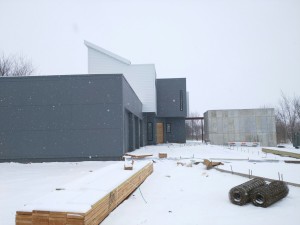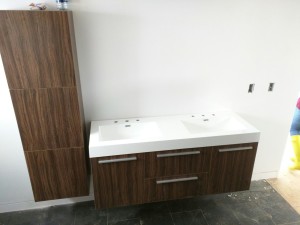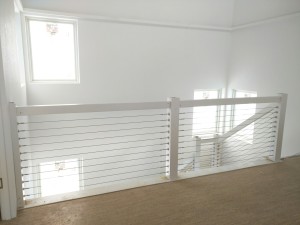 (http://res.cloudinary.com/du6szur8v/image/upload/h300,w225/v1456365938/IMG20150228105530kyzfda.jpg)](http://www.raisingmodern.com/blog/inching-closer-to-move-in/img20150228_105530/)

INSTEON 6-Button Keypad Dimmer Switch, White
in one of the bedrooms. I recommend getting these from Smarthome
. I've always had a good experience with them. The electricians installed a double-gang box where we only needed a single gang – sigh. The four buttons in the middle control the ceiling fan without the need for a second switch.