It's (almost) a Plan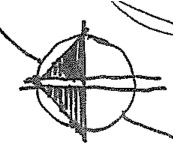 Today we got to lay our eyes on the first tangible fruit of our work with the architect. We have a floor plan! Well, it's not complete. It's just a draft. There are still many things to be worked out, but the general "program" (I think that's the right architect-speak) is there. At this stage it's all about laying out the spaces and getting an idea of what the flow of the house will be. The scale isn't right and at least one spot is kind of wonky, but that's ok, now we have something we can see and discuss. The good news is that it suits us very well. We're really excited about it!
The first thing you'll notice is that it's hand-drawn. That's right, our architect has been in the business a while (well seasoned) and likes to put pencil to paper which I think gives it a nice human feel versus just some pixels.

He was definitely listening to our wants, needs, and preferences because this plan has everything we asked for and is so close to what we want. It's really refreshing to go from pouring over hundreds of stock plans pointing out all of the flaws and things you'd want to be different to seeing something tailored for you (did I mention we're excited).

We have common areas on the first floor and family areas on the second. There's a big emphasis on outdoor spaces. We want things to be seamless so there's a folding glass wall (as long as the budget holds up). This opens to a courtyard walled in for some privacy. We have space, but the lot is narrow and right now, to the south the view is not pretty. We have a second floor deck mainly to get some views (and under certain wind conditions some smells) of the pasture to the west.
Highlights on the first floor:
Folding glass wall on the southern exposure for light and solar gain in the winter.
Shotgun kitchen.
Big courtyard, walled-in and partially covered for those rainy day child energy expending needs.
Stair tower. This guy goes all the way up and pokes out of the roof line (can't wait to see elevations).
Bamboo forest, that's right, a bamboo forest surrounded by stairs! I imagine myself in that scene in Crouching Tiger Hidden dragon as you climb the stairs. This is inspired by the Fig Tree Pocket House that's in our top 5.
Proper Southern porch.
Activity room/mud room.
Guest bed/office combo. A good flexible space away from the bedrooms. Murphy bed to save space.
#### Highlights ponts on the second floor:
Stair tower and bamboo forrest just keep going up!
The seating alcove is intended to be a family area. We'll have some seating there and a TV. A nice semi-private area for the family and a buffer between the master and kid's rooms.
Jack and Jill bathroom for the kids.
Access to the second floor deck.
Kid's closets will be more like built-in cabinets instead of traditional closets. We think it can be more functional and since we plan on having white walls it's an opportunity for contrasting materials.
Next, we'll have a follow-up meeting to review the draft so it can be refined into a real plan.