I think we've finally selected the kitchen cabinet hardware. In our old house, we remodeled the kitchen with sleek euro-style cabinets that we absolutely loved. The cabinet pulls we chose then looked like this: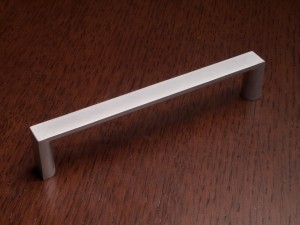 Pretty good hardware
We liked these, in fact, we still do. They have a nice square look on the outside, but on the inside they're nice and round to fit your hand.
For this house, we're sticking with the gloss white euro-style cabinets, but we wanted something more minimal that would essentially disappear so we were drawn to what are known as edge pulls. These little guys are simple and straightforward, just a piece of flat metal bent to a 90 degree angle and attached to the back face of the cabinet door or drawer. A rolled edge is added to give them some more grip. At under $7, they are some of the lowest priced hardware you can find.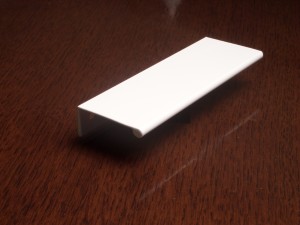 The edge pull.
The ones pictured are made by Atlas; the A832 in the Successi Collection
to be exact. They're available in different finishes and sizes. We want them to blend in with the cabinets so we're going with white, and 5 inches seems to be a good size; not too big, not too small.
Are these the ones to get? We weren't ready to pull the trigger and order 22 of them just yet. What about the quality? They're inexpensive which is great, unless that translates to cheaply made. What about the grip? All of our upper cabinets are hinged on the top which means you need something you can get an adequate grip on to pull up and open. Do these minimalist pulls have minimal grip? Keeping with our modern ideals, they must be functional. We simply ordered a sample to make sure they would be acceptable. Are they?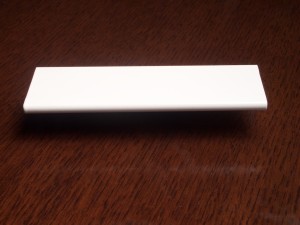 5.12 inches wide seems to be about right.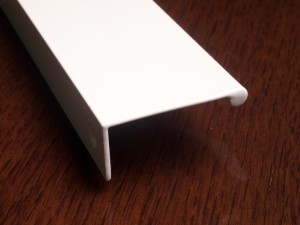 They attach to the back of the cabinet drawer or door face.
I'm happy to report that these will do just fine. First, the finish is good. There's no noticeable flaws in the paint on the two samples we ordered. It's a nice gloss white paint that seems durable enough. Second, while they don't feel particularly heavy in your hand, they are adequately sturdy. If these were $15 a piece pulls, I might feel differently, but at under $7 each I think they're a good value. You can certainly spend more for similar options, but I don't think you need to. Lastly, the grip. I hooked one around the edge of our biggest lift-up cabinet door and I was able to open it just fine even before any damping mechanism is installed on the door that would make it easier to open.
Here's what they look like on the cabinets before they're painted.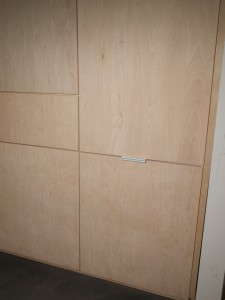 On white cabinets, they'll just disappear.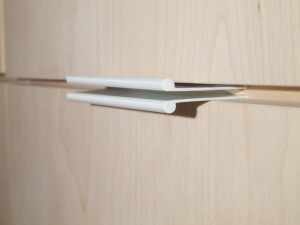 Plenty of clearance even when doubled-up.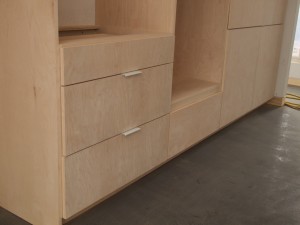 On some drawers.