Second Meeting with the Architect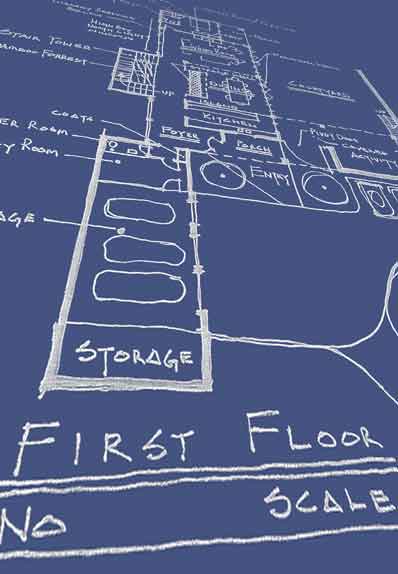 Had another meeting with the architect. This time with both kids in tow. They were both very well behaved as usual (we're very blessed) so it was a productive meeting. We had several days to mull over the initial floor plan so we had a short list of things we wanted to discuss and detail out.
#### More bamboo

He had already made a few changes to the plan, most notably another bamboo garden. This one outside complimenting the indoor bamboo garden inside the stair tower. The experience will be that when you go between floors you're surrounded on two sides by bamboo, pretty unique. Selecting the right bamboo is on our to do list; needs to be something tall with a weighty feel and hardy which bamboo generally is. I think it's the only plant we've managed not to kill. Ozark Bamboo Garden in Eureeka Springs is a great place for bamboo that we've bought from before so we'll likely seek help from them.
Storage wall placement
The Storage wall in the Block House that was on our list of wants presents a problem with line of sight. It would block views of the bamboo from the dining area and most of the kitchen. That's a no-go. The bamboo is an important detail that needs to have maximum visibility (part of bringing the outside in). We may lose that storage wall, the first real compromise we may have to make.
Where's the pantry?
If we lose the storage wall, what are we going to do for a pantry? Maybe it'll all fit in the kitchen cabinetry, which if course is ideal. We're just deathly afraid of not having enough storage, because you can never have enough, and with no attic or basement to just shove stuff into, everything has to be within the walls.
#### Equipment closet

I have some big ideas for home automation and that equipment along with networking and computer equipment needs to have a place to live, preferably centrally located and sharing a wall with the TV in the living room. I our current house, I've put our home theater PC, cable modem and router in a closet behind the TV. This is much preferred over having any of that stuff in an entertainment center where they bring clutter, noise and bright LEDs. The architect thinks it might be able to go next to the activity room, but that's too far away so, the next potential locations are in the guest room (concerns with space and noise) or squeeze it in upstairs.
Linen closet
We need a linen closet upstairs. Right now, this isn't in the plan. The architect agrees, sheets and towels must go somewhere, he just hadn't found the right spot yet.
It was another really good meeting. We've developed a good working relationship with the architect and he's anticipated many of our concerns. Also, we found out that Beautiful and expensive glass doors, the gold standard in glass doors for modern structures is no longer the only game in town. Some of the other major window and door manufacturers have released some new glass wall products that should be cheaper which is good news for the budget. We really don't want to have to cut into that feature.
Now, he's going to refine the plan further and put it to scale.