Sheet-rockin and EZY Jamb
The drywall crew has been working all week. Here are some pictures of the progress. This is the stage of construction where everyone tells you things start looking smaller and I confess, that's true for the most part. Bedrooms, bathrooms and other smaller spaces tend to feel more closed in when the walls go solid, but the open areas like the living room and kitchen still feel large and open. We're particularly excited to see the EZY Jamb order arrived and they're starting to be installed. This small detail that will really set the house apart so stay tuned for more on that. Also, more eagle-eyed readers will notice that the Panda door in the living room has not been installed. Some damage to one of the tracks was discovered so that is being worked out with Panda.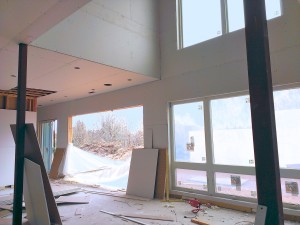 It's nice to be able to see the full height of the dining area covered.

Almost done hanging downstairs.