Work started on the roof Thursday. That's a huge deal because we've had one delay after another on this silly roof. It's truly a terrible situation to be in at this stage of construction because nothing else can proceed without a roof. Electricians can't wire and HVAC guys can't get their HVAC on. In the last update we were hopeful that the roof would start last Friday, but alas, more delays. We got bumped for the first week of school. Apparently schools don't realize they have leaks until there's a storm a few days before the first week and they understandably take priority. Regardless, we're happy things are finally proceeding.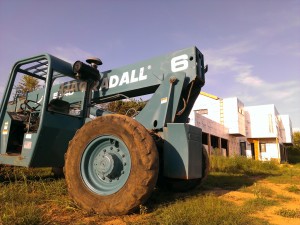 Big old lift for getting materials on the roof.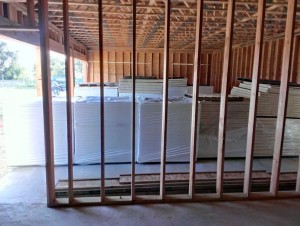 The foam for the roof that's been sitting in the garage for weeks finally is being put to use.
Scuppers
We don't have gutters, we have scuppers; the little apertures in the side of the parapet that water drains through. The original plan had two of them draining right past the giant windows in the entry way/hall; one of those mistakes nobody caught on paper. I had spoken to the builder about moving them to the far end of the house where there are no windows, but it looks like that wasn't done. I'm pretty sure there's a reason. I'll check with the builder on that tomorrow. It may be better this way regardless because 1) the far end of the house is where the future home theater room will be and would likely require some additional work when that's built, 2) we could use a rain chain on this scupper and it might look nice that way.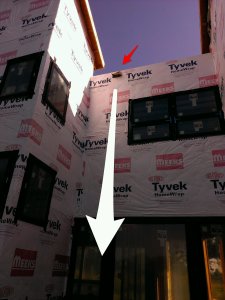 One of he scuppers (red arrow) drains straight down past some windows (white arrow).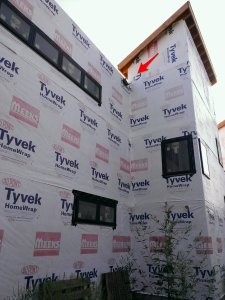 The other scupper. It's in a good out of the way spot to put a rain barrel.
Kindergarden
As a side note, our oldest started kindergarden. This is the year of big changes for our family. Obviously the house, but also a new baby due about the time the house is and sending the first one off to school. Lots of stress, emotions and tears in our household, but even more joy and excitement.
Doors
The exterior doors came in, including the much anticipated front door from Simpson. We went with their "Contemporary Thermal" line. They look much better and have more options than Therma-Tru's "Pulse" line. The foreman sent me a picture of it being unloaded and wow is it big. The original plans called for sidelites flanking the door. We dumped those due to the surprisingly high cost of sidelites (they're just little windows anyway) and because we didn't find any we liked. So we just went with a 4 foot wide door that would fill the space. It's a wood door, but we plan to paint it. Who knows, that could change if we like the wood enough. The rest of the doors are uninteresting (cheap) smooth panel doors.
[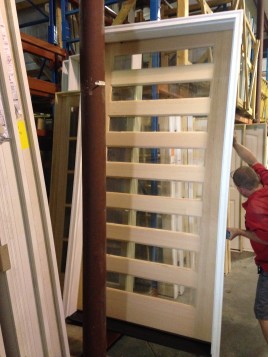 Our giant front door. Yes, that's a regular size man pictured.
Hopefully we're completely dried in soon and I can start writing more interesting updates.