The Slow March of Progress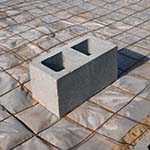 A scant update to go with the scant progress on the house this week. Last week the rain held us back from pouring the foundation. We started this week with clear skies in the forecast, a little plumbing work remaining to be done and then the prep work for the slab. As it sits now on Friday, the foundation is prepped and ready for the pour but the concrete company is booked until Tuesday.
Aside from foundation work, the electrical and water line trenches in the front yard have been covered. Things look a little nicer now all smoothed over. Also, the windows have been ordered. They should be here by around June 10th and it'll be really great if they have walls to go in when they get here.
[![Slab prep](http://res.cloudinary.com/du6szur8v/image/upload/h_225,w_300/v1456609327/IMAG3994_xhxixf.jpg)](http://www.raisingmodern.com/blog/the-slow-march-of-progress/imag3994/)