Tigerwood Decking Samples from Advantage Lumber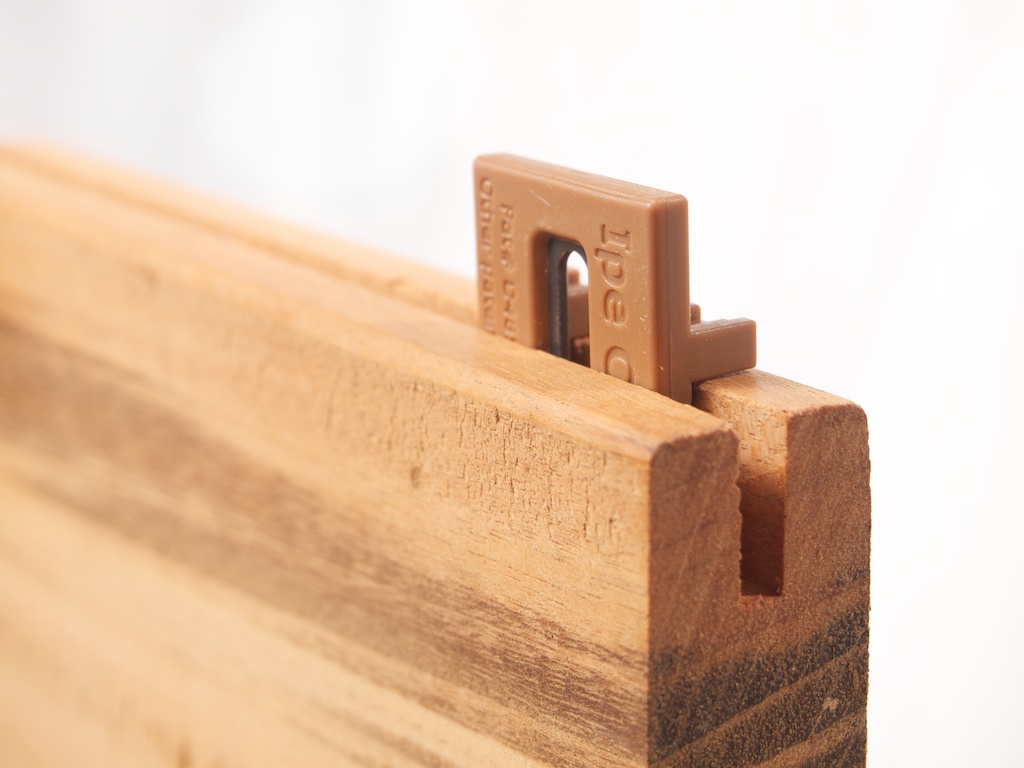 Yesterday we received a mysterious little box that's quite heavy for its size. I quickly realized that it was our decking samples from Advantage Lumber that I ordered last week. Exotic hardwood, free samples shipped quickly to your door, good prices, and a usable website – what more could you ask for?
During the design phase we easily chose Tigerwood for our 2nd floor deck. Years ago I built a rather large deck out of pressure treated pine, the default budget wood choice for outdoor projects. It was a good deck, but pine has some problems. It warps and splinters and if you don't keep up with cleaning and sealing it regularly it can start to look tired. I've never been very good at keeping up with maintenance when it comes to things outside so the cleaning and sealing never happened.
So we're willing to spend some extra money to get a deck that looks good and stays looking good for a long time with little or no maintenance. Of course like all decks it will need to stand up to insects and the sun. It'll also need to be durable enough for a young family of four. What are the options for a deck like this? There are two basic choices: composite and exotic hardwood.
Composite was eliminated right away. Remember, we're building a modern house and if you read my post answering "what is modern" then you know a plastic deck made to look like timber is not an honest use of materials. That's awfully pretentious you say? Maybe it is, but we're committed to this modern thing dag-nabbit and we just couldn't live with ourselves if we put in a plastic deck. There's more problems with composite decking than staying true to our design sensibilities if it makes you feel any better. First is price. A 1×6 Trex decking board runs about $4.35 a lineal foot at the local home improvement store. That's more than 25% higher than the cost of Ipe, which is sort of the gold standard for exotic hardwood decks.
Second is lifespan. Nobody really knows how long they should last. Composite decks have only been around since the early 1990s, but the manufacturer warranties should give us clue. Trex, the oldest and largest manufacturer of composite decks offers a 25 year limited warranty. Sounds impressive, but it doesn't cover weathering. If your deck's original reddish hue turns gray after 10 years of sun exposure, you're out of luck, no warranty claim to make and no amount of pressure washing and staining can bring it back. Checking the online reviews of Trex and other composites you read enough stories of warping and UV deterioration to be skeptical of manufacturer claims.
So, no to composite that leaves exotic hardwood, but which one? They all have the durability, and low maintenance we want. Ipe is the most durable with claims of 75, even 100+ year lifespan. It's also the most expensive and we're not really feeling the reddish tone. Cumaru looks a lot like Ipe but without the red and it's about 27% cheaper. Then there's Tigerwood that earns its name from the prominent dark streaks in its grain. At 32% cheaper than Ipe, it really starts looking good! We pretty much fell in love with the look of Tigerwood. Some might think the stripey grain looks too busy, but we're not worried about it. Once the wood is treated with a sealer and UV protectant it darkens and mellows out the contrast.
In case you're not keeping up with the percentages, here's a cost breakdown:
| | Cost per lineal foot (est) |
| --- | --- |
| 5/4 x 6 PT Pine | $0.50 |
| 5/4 x 6 Cedar | $1.13 |
| 1 x 6 Grooved Tiger Wood | $2.60 |
| 1 x 6 Grooved Cumaru | $2.79 |
| 1 x 6 Grooved Ipe | $3.83 |
| 1 x 6 Trex | $4.35 |
The downside to going with an exotic hardwood is availability. You can't just run down to Lowe's and toss some boards into the back of your pickup. I'm going to have the builder see if he can source it through a local company, but it looks like we'll probably end up ordering from Advantage Lumber. They seem like a pretty decent operation. Their website is informative, prices look reasonable, no tax unless you live in New York or North Carlina, and free samples.

I ordered samples of Tigerwood, Ipe, and Cumaru to compare. Neither of us had ever seen these woods in person before so it was nice to be able to confirm in person what they look like. They were nice enough to throw in some samples of the Ipe Clip fasteners – trick little metal and plastic bits that leave you the clean look of no exposed fasteners. To use the clips, the boards must be grooved and they sell pre-grooved boards which is what I ordered. The grooves are cut nice and clean and straight.
These boards are heavy. Durable too not like pressure treated pine that you can dent with your fingernail. You can definitely tell a difference between the Ipe (heaviest) and Tigerwood (lightest). The weight, bulk, and whether or not their nearest warehouse in North Carolina stocks what we need, shipping costs could be a concern. I called to get an estimate of shipping costs; one downside of the website is that it doesn't mention shipping charges. Typically 10% of the cost is what they said. That sounds reasonable. I also noticed that they periodically run $100 flat-rate shipping promotion so if we catch that we could save a few hundred dollars.
So far I'm happy with Advantage Lumber and we'll likely end up ordering from them. Look for an update when that happens.